Posted by lanes Car Products on 21st Oct 2015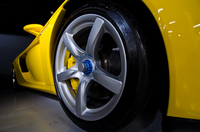 The condition of a car's wheels and tires makes a huge difference to its overall appearance: investing time and effort into cleaning the paintwork, and the interior too, generally leads to fantastic results – but neglected wheels & tires can drag the quality of the finish down a great deal.
However, staying on top of cleaning your wheels & tires is important for more than just good aesthetics: leaving brake dust to remain on wheels for a long period of time can cause it to eat into the coating (if present), damaging the metal. As brake dust is formed of carbon fibers and adhesives off of the brake pad, as well as minute metal shavings off of the rotor, they can be very corrosive – and, the more you drive, the more brake dust you will generate.
At Lane's Professional Car Care Products, our range of auto-detailing items are formulated to provide a lasting professional finish – bringing an extra-special touch of quality at both an aesthetic & practical level. Our Aluminum Wheel & Tire Cleaner Kit is a worthy purchase for all dedicated car-lovers, and comes complete with:
Lane's New Aluminum – a powerful acidic wheel-cleaner which provides instant-effect, guaranteed to save time typically spent scrubbing away!
Lane's Black and White Tire Cleaner – safe for all tires (including black, whitewalls, and black-with-white-lettering), these not only clean your tires but also boost the quality of their appearance, prolonging their life.
Lane's Super Blue Tire Shine – a quick-drying, high-gloss, long-lasting, solvent-based tire shine, which repels water & lends extra protection.
Lane's Wheel Polish – this removes oxidation, corrosion, rust, stains, water & tarnish spots, and also restores metals to their original quality.
By themselves, each of these products can be a powerful new addition to your auto-detailing routine – but together, in one kit, they're essential.
Wondering how these work? Join us as we guide you through each!
New Aluminum Wheel Cleaner
With a spray-applicator, this is easy to use, and begins to take effect within seconds. Simply spray this onto your aluminum wheels, using a brush to agitate grime and dirt if there's a particularly strong build-up. Once you've applied the cleaner, spray your wheels with a power washer or hose to remove it.
Black and White Tire Cleaner
Keeping your tires clean helps your car to look newer, fresher, and well-cared for – and, with Lane's Black and White Tire Cleaner, it's easier than ever.
This is formulated to virtually eliminate hard scrubbing, which may have put you off attending to them in the past. To use it, simply spray a generous amount onto the tire, and let it get started breaking your grime, dirt, and other accumulations down: allow between 10 – 15 seconds to let it work its magic.
Then, scrub the tire with a brush to loosen any remaining mud, breaking up leftover dirt. Spray the tires with a power washer or hose, and then move onto the next product …
Super Blue Tire Shine
Using our Super Blue Tire Shine regularly can help provide a gleaming finish for weeks at a time – even in grueling weathers. This is quick and easy to use: make sure your tires are completely dry, and apply this evenly (dressing applicators can help in this, but aren't essential). Almost instantly, you'll begin to see a difference in the appearance of your tires – just apply and leave it to work!
Wheel Polish
This product provides a lasting shine and protection for your wheels, keeping them in a showroom-fresh style. Use this regularly to help protect your wheels from environmental damage, oxidation, corrosion, and more.
To apply, just grab an applicator and massage the polish onto the wheel, ensuring an even coating. Leave it to take effect for 25 – 30 seconds, and then remove it with a clean microfiber towel. That's it!
This kit is ideal for car-lovers, no matter what your vehicle, and all products are used by professionals in the auto-detailing industry.