Posted by Lane's Car Products on 13th Dec 2015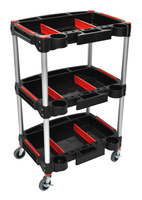 Being organized while you work can make any job faster, easier, and much less work than searching for the next item you need every few minutes. One way to do this is with a mobile detailing cart from Lane's. A mobile detailing cart can hold everything you need to get your car looking great again, and is also a great way to store your essential detailing items when you aren't at work. Lane's mobile detailing carts are made from the highest quality materials and built to last with extremely sturdy construction. These carts are truly professional grade.
A mobile detailing cart can drastically cut down on the time required to finish your next project by keeping essential items right at hand when you need them. You might wonder how you ever worked without one. Getting more organized is something we could all make a higher priority, and once you are it will make all of the difference in the world. Stop searching for that tool, or item that "you just swear it was right there," and actually have it where you need it when you need it.
With over 30 different mobile detailing carts to choose from, there is one bound to fit your needs and price point. Some even feature magnetized side panels to hold small steel tools and keep them from wandering away. They also come in assorted colors and styles, making it easy to find the one that's right for you. Stop searching for your stuff! Get it organized on one of Lane's mobile detailing carts today!