Posted by Lanes Car Products on 15th May 2015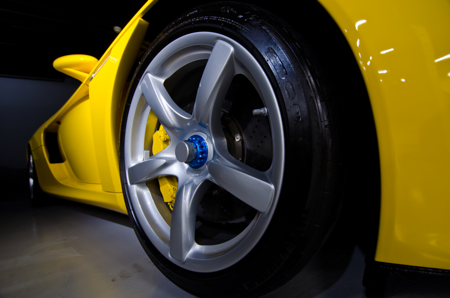 For the committed car-lover, detailing the exterior and interior of your vehicle is absolutely integral: you need to put great care and effort into maintaining its look and performance to keep it in the condition you love. While most people may believe this simply equates to a quick wax and polish, paying attention to every element of the car is key – the windshield, the headlights, the wheels, and the tires.
Casual drivers may well overlook the state of their tires, believing this is less important than the paintwork and seats. However, real car-fanatics understand how much filthy tires can detract from the overall aesthetic.
At Lane's Professional Car Products, we stock a wide range of tire-cleaning products, all of which are designed to provide the most powerful clean in the quickest time, ensuring you can get your car looking dealership-fresh in minutes. Each cleaning item we produce is made with the very best ingredients, formulated to remove all dirt and grime without the hard scrubbing that can become so frustrating and tiring.
Join us as we provide a step by step guide on using our tire cleaners!
Step One:
First things first: always start with the tires and wheels first, before cleaning any other area of the car's exterior. Why? Well, if you spend time treating the rest of the vehicle, creating a gleaming finish you're proud of, and then start working on the tires, you may well cause dirt and grime particles to splash to already-cleaned areas, undoing all your effort.
Step Two:
Be sure to choose the right product for your tires – at Lane's, we have a range of products including Grape Tire Dressing, Black & White Tire Cleaner, and Super Blue Tire Shine Dressing, each designed to perform best with particular types of tires. Our product descriptions are comprehensive enough to give you the guidance you need to avoid making the wrong choice.
Step Three:
Use the cleaner best-suited to your tires as directed: typically, this means just a few sprays, or applying with a cloth. Get in deep, working the cleaner across the tire, wiping away dirt wherever needed – make sure you give an even treatment for maximum results.
Step Four:
With some cleaners, you can leave them to settle, or you can wipe away excess fluid from the tire. The choice is yours – use your own judgment.
Step Five:
Our tire brushes are perfect for giving your tires a thorough clean, with sturdy bristles able to remove dirt and grime away from the rubber before or after using a spray. These can also be carried in the glove box or boot, perfect for an emergency clean on the road.
That's it! Your tires should now be clean and as good as new.
Passionate About your Cars
Lane's Professional Car Products was founded by a long-time car-lover, and we strive to bring you the greatest range of auto detailing products available on today's market: every item we create is made with the best ingredients or materials, designed to provide lasting professional results.
We aim to give you everything you need to make your car look its best, at prices for all budgets. Whatever your car, whatever your detailing routine, we'll be able to help you treat your car with the love and attention it needs like never before.
As passionate car-fanatics ourselves, we can provide information and advice on detailing your car, so get in touch if you have any questions! Call us toll-free on 1 – 866 – 798 – 9011, or use our Live Chat feature to discuss your detailing needs with one of our advisers in real-time.