Posted by Lanes Car Products on 15th Nov 2015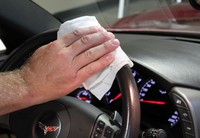 Lane's Professional Car Care Products are the best available for detailing your vehicle and keeping it looking like new. However, there is nothing like a few pro tricks to get the absolute most out of our professional grade products.
- Lane's interior detail sponge is a favorite at our shop for making interiors look their absolute best. Use clean water and work the sponge over plastic, leather, vinyl and almost any surface that has experienced scuffing or has deeply ground
in dirt. For the toughest jobs, amp up your sponge with Power Clean. Make sure to test an inconspicuous area first and you may want to dilute the solution 1:1 for best results. Be sure to keep the sponge thoroughly moist for best results, and then follow up with a clean soft cloth to wipe away any excess dirt and remaining water.
- Compressed air is your best friend for getting dirt and grime out of seemingly impossible to reach places. However, you can take your compressed air skills to a new level with Lane's Power Clean by wetting the soiled are with cleaning solution and then blowing the dirt and grime away. It truly takes your detail skills to the next level.
- Use a good quality towel! There is almost nothing that makes a bigger difference than a good quality detailing towel. Think that old t-shirt is good enough? Think again. Lane's professional Car Care Products has a wide variety of towels and brushes to choose from to make any cleaning job faster, easier with results leaving you looking like a complete pro. Try it and see the difference for yourself!