Posted by Lanes Car Products on 2nd Jun 2015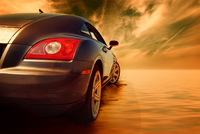 At Lane's Professional Car Products, we love our cars just as much as you love yours. Keeping our vehicles in the very best condition is essential not only to ensure they keep running at their best, but also to help them look & feel as beautiful as they first did when we drove them out of the showroom.
We're dedicated to providing car-lovers like you the greatest range of auto detailing products on the market: we formulate our complete selection from scratch for maximum performance – each and every Lane's creation you use on your vehicle has been designed to keep your beloved car at its best, no matter the make or model.
One of our most popular items is the Super Blue Tire Shine Dressing – this provides long-lasting, professional results that make your car or truck look as if you just bought it new! We supply this to avid enthusiasts, professional auto detailers, and showrooms alike.
Super Blue, Super Results
Using all of our products is quick and easy, and the Super Blue Tire Shine Dressing is one of the fastest, simplest detailing solutions we offer. Made to provide a high-shine, high-gloss finish, this will keep your tires looking as good as new, and can withstand rain (as well as other harsh weather conditions).
Tires are one part of your car you may easily forget about, or consider unimportant – on an aesthetic level, at least. You see, for some people, the key to a sleek, good-looking car is focusing on the body: ensuring it's waxed, buffed, clean and streak-free. However, the tires can really help to drag a car's overall look down, having a negative impact on all of your hard cleaning work.
Super Blue Tire Shine Dressing can provide lasting performance for weeks, adding an extra shine to your vehicle, whether you're driving on your daily commute, preparing cars for sale, or just looking to keep your collection in the best of condition.
Easy Application
Our founder, Lane, began his career as an auto detailer, working on clients' cars and trucks using a range of branded products. He found that these were not quite up to the standard he expected, and took longer than he'd like to provide an effective clean: so, to provide people just like him with the gear needed for a faster, better finish, he set about formulating wax. This became a big hit with car-lovers and fellow professional-detailers. Since then, the Lane range has expanded into a huge selection of car-care products.
One of the guiding principles we stick to is that all of our products should be quick and easy to use, for car-lovers of all skill levels. So, our Super Blue Tire Shine Dressing can be just applied as a mist, and then left to go to work! That's it – no scrubbing, no sweat.
Before use, for best results, you should clean your tires (our Black & White Tire Cleaner is highly recommended). This gives fast results, too – as you apply it, you'll notice a difference in the way your tires look: they'll quickly become cleaner and shinier. The dressing prevents your tires from becoming dry and cracked, providing them with a longer life; letting tires go to wrack and ruin can lead to blowouts – the last thing you need on any drive, especially if you forget to carry a spare with you.
For more information on any of our products, feel free to give us a call! We love to talk cars and detailing with all of our customers: you can reach us at 1 – 866 – 798 – 9011.