Posted by Lanes Car Products on 15th May 2015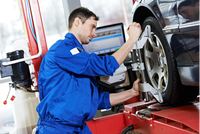 Auto detailing is a real passion for car-lovers – paying attention to every aspect of the car, whether treating a feature integral to the vehicle's performance, or just an aesthetic element, is essential to keep it in the condition you need.
For the average driver, the state of their car's wheels can be easily overlooked: provided they work as they should, the way they look isn't of much concern. However, for the rest of us, the way our wheels look is just as important as their performance.
At Lane's Professional Car Products, we offer a range of cleaning products specially formulated to provide the highest-quality finish. Our Aluminum Wheel Cleaner is an acid-based solution for a professional shine – this can be diluted, or used at full strength for maximum efficiency. Professional auto detailers and showrooms use our cleaners to keep their cars looking irresistible – without hard scrubbing!
Want to know more about how to use this great product? Read on!
Keeping your Wheels Shining
Caring for your car's wheels is key to help encourage its longevity – follow our guide to help yourself get the most out of our Aluminum Wheel Cleaner.
Step One:
To start with, spray the cleaner onto your wheels, using generous amounts as you see fit.
Step Two:
The cleaner is designed to start working immediately, but if your wheels feature an extensive build-up of scum and grime, feel free to get into it with a wash mitt or brush.
Step Three:
Once you're done, take a power washer or a fire-hose nozzle, and spray the wheels clean – be sure to cover all areas, and remove any areas of muck that may be stubborn.
Step Four:
Once done, your wheels should look as good as new (if not better). Our Aluminum Wheel Cleaner is the strongest available on today's market. While this provides a long-lasting finish, you may want to use the cleaner on a regular basis to keep your wheels in the best condition.
We also stock additional cleaners, to leave other areas of your car with a gleaming, professional finish. These include car washes, shampoos, waxes, and polishes – anything you need to keep your pride and joy at her most beautiful! We also provide an extensive selection of brushes, mitts, brushes, and sponges.
Professional Advice when you Need it
Lane's Professional Car Products are designed to provide a professional finish across all vehicles – cars, trucks, and more. Whether you're trying to get your showroom collection gleaming like never before, or want to treat your personal cars to a thorough, refreshing clean, trust Lane's every time.
You see, our founder – Lane Pietro – began detailing cars as a mobile professional, moving from one vehicle to the next. He found that the branded products he used for cleaning clients' vehicles just weren't up to the standard he expected: he knew he could formulate detailing products that would leave cars in better condition, and save him time, too. From there, he created his own car wax, which received a great reception from customers – this inspired him to launch an entire range of goods. Now, his business provides car-lovers, professional detailers and car-dealers with all the products they need.
Our Aluminum Wheel Cleaner is just one of these products, filled with the best ingredients, ideal for enthusiasts of all vehicles. Want to know more? Give us a call on 1 – 866 – 798 – 9011, or drop us an email at lane@lanescarproducts.com