Posted by Lanes Car Products on 15th May 2015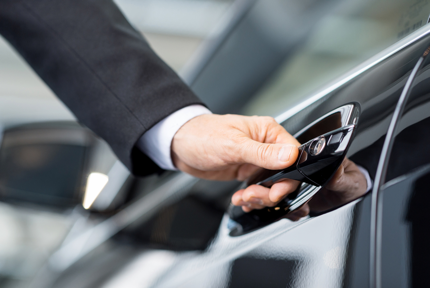 For dedicated car-lovers, detailing their vehicle takes real care and passion: while most people are happy to just drive through an automatic car-wash once in a while, enthusiasts & collectors like to pay the utmost attention to every little detail, no matter how small.
Door edges can be susceptible to damage, with constant opening, closing, and slamming – chips can affect the overall aesthetic of the car, taking a little of the perfection away. At Lane's, we're just as passionate about cars as you are, and know how visually unappealing some door edge guards can be for your vehicle: typically made of bulky rubber or plastic, these are somewhat inelegant, and very noticeable.
Today's cars feature more curves than past models, and door edges are no different – our clear edge strips are a discreet, reliable alternative to chunkier designs.
Fitting your Door Edges
Our clear door edge strips are highly malleable, able to cling to any door edge, no matter how curved: even within a few feet of the car, people will be none the wiser. We create these from polyurethane protective film, just 8mm thick – these are resistant to puncture, preventing the need for regular replacement whenever the door strikes a wall or another car.
These guards will not discolor or crack – this, we guarantee! Each pack includes four strips which can be cut (using household scissors) to create a tailored fit for your car's doors.
So, how do you actually fit them? Read on!
Step One:
To get started, simply clean the door's edge on the internal and external surfaces; use a lint-free cloth with our alcohol/water solution for best results. This will provide a fresh, neat foundation for your strips.
Step Two:
Next, take the door edge guard film (still with the liner attached) and hold it in place against the edge. Pay careful attention to its fit: how much do you need to take off? Once you feel confident, trim the film to size – try to avoid taking too much off and having to start over. Instead, chip away, taking smaller pieces off than you may need just in case.
Step Three:
To get started, coat your hands with the alcohol/water solution – you don't need to make the film or car wet with the solution, as the film has a narrow width and is easy to fit. Once your fingers are wet, they won't create fingerprints in the adhesive, for a cleaner, neater look.
Step Four:
Take the liner away from the film, taking care to avoid touching or contaminating the adhesive – take your time.
Step Five:
Starting at the top of the film, press it down against the door's surface, with around half of the width on the edge, and the other half reaching past it. Proceed along to the film's bottom. Again, take your time, and be careful to get it as precise as you can.
Step Six:
Fold the film around the door's edge, from top to bottom. This should give you a nice, even layout.
Step Seven:
Make sure all areas of the film are secured well against the door edge: check for any air bubbles which may leave it uneven. This is vital to ensure the edge is well-protected.
Step Eight:
Finally, leave the adhesive to dry for at least 24 hours before you wash the car for the first time – even if the car's filthy, be sure to give the film the time it needs to set.
At Lane's Professional Car Products, we can provide all the information and advice you need to keep your car in the best condition. Want to know more? Give us a call on 1 – 866 – 798 – 9011.