Posted by Lane's Car Products on 20th Dec 2015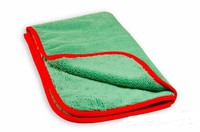 At Lane's Professional Car Care Products, we offer a wide variety of the absolute best microfiber towels on the market today. While some may claim there is a one size fits all towel for every application, the reality is that there are several different varieties available depending on the job. Lane's offers many towels for every need.
One towel that may come close to being a great solution for most jobs is the Waffle Weave Microfiber Towel. The Waffle Weave pattern will help those annoying drips while drying your car, not to mention removing those streaks and smears with window cleaning. Due to the uniqueness of this towel, auto detailers and dealerships made the waffle weave towel the number one choice for all around detailing.
The 16" x 24" Microfiber Towel is an industry standard and Lane's only offers the best. Available in a variety of colors enabling you to keep a specific color designated for a specific job, these towels can tackle almost any automotive need. Microfiber Towels are the #1 selling towels for car detailing. Microfiber is a man-made material that consists of an interlocking blend of two fibers: polyester and polyamide. Polyester is a fiber that is useful for polishing and cleaning while polyamide is a fiber that is absorbent and quick-drying. When the two fibers are combined, their qualities create a unique and effective microfiber material. Lane's Microfiber Towels utilize a 70/30 blend, which is lint-free, absorbent and non-abrasive.
Lane's Professional Car Products also carries a great kit consisting of three 14" x 14" microfiber towels. The microfiber towels polish and clean, leaving a lint-free, streak free surface. The microfiber towel can be used for removing car wax, car polish and auto detail spray safely and effectively. Now, you can protect your vehicles clear coat finish by using a professional microfiber towel to remove car wax products. The microfiber towel is easy to maintain and can be reused again and again.
Microfiber towel care: Machine wash warm with no fabric softeners or bleach. Then, tumble dry, preferably using the permanent-press setting with no dryer sheets, as these will reduce the absorbency of the towels.
No matter your detailing needs, Lane's Car Care Products has the right towel for the right job at the right price!