Posted by Lanes Car Products on 28th Mar 2015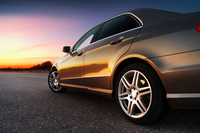 As a car-lover, does it infuriate you when you see people driving in vehicles with gorgeous shiny bodies, sleek windows, immaculate headlights … but with hideous wheels? It's strange, isn't it? When you clean your car, you want to be as thorough as possible – you use polish, you use wax, you treat the interior, you make sure the tires look their best, and, perhaps last but not least, you give the wheels that all-important shine.
Why some drivers would invest time and money into cleaning their cars without giving due attention to their wheels is something of a mystery, but we're here to help you avoid this mistake. At Lane's, we formulate a range of different wheel cleaners, all offering high-quality performance for a lasting finish you'll feel proud of.
To help you find the right one for your needs, we'll take a look at our top products, and explore the benefits they offer.
Aluminum Wheel Cleaner
Our Aluminum Car Wheel Cleaner offers instant results and eliminates the need to scrub! This is ideal for removing brake dust and unsightly grime from your wheels, for a professional finish. As this is acid-based, it can be diluted or used at full-strength depending on your own personal preferences – either way, however, it's easy to use, with a trigger sprayer. Just apply it, wait between five and ten seconds, and then rub around the wheel (using a mitt or a brush) – within moments, you'll see that grime and dust run. To finish, spray wheels clean with water – no fuss, no hassle.
Chrome Wheel Cleaner
Lane's Chrome Wheel Cleaner is a favorite of auto detailers and car dealerships, with its professional-strength, non-acidic performance. This is formulated for safe cleaning on all wheels, including painted, aluminum, and mag, removing grime and dirt. As with our Aluminum Wheel Cleaner, this is quick and easy to use – spray onto your wheels, wait five to ten seconds, wipe, and then spray clean with water.
Wheel Polishing Kit
This kit is designed to help you get your wheels looking their shiniest! Featuring a yellow wool pad, a black speedy foam pad, synthetic wool pad, and a micro hook backing plate with a ¼" spindle, this is ideal for polishing your wheels, as well as buffing your headlights & taillights for a stunning finish. You can even use this on motorcycles (if you're a dual-committed car- and bike-fanatic!), to polish tanks and fenders. As with all of our products, the items in this kit are easy to use, and provide outstanding results.
Wire Wheel Spoke Brush
When cleaning your wheels, you may spot areas in need of detailing in hard-to-reach locations, such as deep between spokes. Our Wire Wheel Spoke Brushes are available in large and small sizes, to help you reach stubborn patches of grime and dirt. Made with natural Tampico, with a soft to medium texture, these are hugely-resistant to solvents, liquids, and heat – making it perfect for perfecting your wheels.
Detailing Xtra Fine Steel Wool
Nobody wants rust on their wheels, so why stand for it? Our Detailing Xtra Fine Steel Wool is designed for polishing stainless steel and removing rust – this can also be used on chrome, and on wood, and helps to create smooth finishes. Just use this whenever you spot rust, and your wheels will stay looking younger than their years again and again.
Whatever your car, whatever your budget, Lane's has the ideal products to keep your wheels immaculate. If you want to know more, just give us a call on 1-866-798-9011!