Posted by Lanes Car Products on 2nd Jun 2015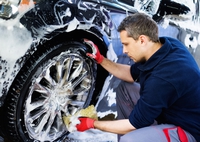 For dedicated car-lovers, professional auto detailers, and showroom-managers, maintaining a vehicle's visual quality is a must – whether for your own satisfaction, a client's happiness, or a potential customer's benefit, treating cars to a regular clean is key. Working on the body is vital, of course – using soaps, wax, and other products as needed to keep the surface clean & the paintwork gleaming.
However, at times, it can be easy to overlook the wheels – not just the tires, but the actual wheels themselves. If you're in a hurry, or don't spot any obvious patches of dirt, you might choose to leave them as they are, but this can seriously affect the overall aesthetics of any vehicle.
At Lane's Professional Car Products, our range of products features everything you need to keep your aluminum wheels looking at their very best. Join us as we take a look at our wheel cleaners – including the strongest on the market!
This is it – the best cleaner available. As an acid-based formula, this is perfect for creating a professional, lasting sheen on your wheels, with instant use (negating the need for any of that frustrating scrubbing that can make detailing such a chore for some of us).
Whether diluted or used at its full strength, this is popular with domestic car-lovers as well as detailing professionals – thanks to the trigger sprayer and fast-action, this allows cars and trucks of all sizes to be given an instant visual boost. Get rid of unsightly brake dust and grime from even the oldest aluminum wheels, just with a quick, simple spray.
Leave the fluid on the wheel for between five and ten seconds, and then gently rub at it with a mitt or brush: as you do this, you will see contaminants start to run from the aluminum. Just spray it clean with water, and enjoy your as-new wheels!
So, with no vigorous scrubbing needed, this can be a tiny part of a regular detailing process, whether you're in your garage, on your drive, or at a car showroom. What else do we have to keep your wheels in peak condition?
Wheel Polish
Suitable for both aluminum and chrome wheels, this polish removes oxidation, corrosion, rust, stains, water spots, and tarnish – all while bringing metals back to their showroom-fresh shine. With wax and natural oils used in the formula, this also seals in real shine for long-lasting protection, providing a professional finish that's impressive on more than an aesthetic level.
When cleaning and polishing your aluminum wheels, be sure to follow instructions given on our products and use as directed. At Lane's, we put great time and effort into formulating the widest, most effective range of auto detailing aids on the market – whether you're focusing on your wheels, your headlights, or your interior, we're here to make sure your car always look in top condition.
We're passionate about cars, and auto detailing – it's in our DNA. Ever since our founder, Lane Pietro, created his first wax while working as a professional detailer, we've dedicated ourselves to providing real car-lovers with the latest and greatest selection of cleaning-aids on the market, with a focus on speed and convenience. Today, most of us are busy, working hard for ourselves, our families, and our future – as much as we adore our vehicles, we often don't have as much time as we'd like to spend on them. This is why products such as our Aluminum Wheel Cleaner provide fast, lasting results.
Want to chat with us? Have questions or comments? No problem – just call 1 – 866 – 798 – 9011!