Posted by Lanes Car Products on 13th Sep 2015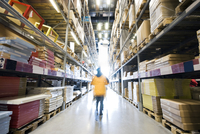 Lane's Professional Car Products is a thriving business with an expanding base of customers, across professional & domestic sectors: we supply to dedicated car-lovers looking to keep their beloved vehicles in top condition, showrooms in need of the best products to wow their clients, and professional auto-detailers with a steady supply of cars to treat to the highest standard.
Now, you can start to work alongside us, and connect with a new range of customers you may otherwise be missing out on. If you have been operating in e-commerce for more than a year, and specialize in auto-related goods or services, why not start selling our products on your own site? Provided you can process orders, your customers can begin to benefit from our huge selection of detailing aids & their competitive prices – all thanks to our dropshipping program.
How does this work?
Dropshipping with Lane's – Explained
Dropshipping is a method of retail fulfilment, in which a store stocks none of the products it sells: instead, whenever they sell a product, they buy it from a third party, who then ships it to the customer direct. This means the company makes a sale without having to ever see or handle the product themselves. Unlike a standard business model, in which a company will buy products and have them in stock with no guarantee they will be purchased, dropshipping allows a business to boost revenue without needing to have the goods waiting 'just in case'.
Less capital is needed with this method: sites can operate e-commerce stores without having to invest substantial amounts in stock up-front, minimizing the element of risk. Also, businesses don't need to purchase a product unless a sale has already been made: goods are bought on an as-needed basis.
Dropshipping also removes additional costs and hassles for smaller businesses: there is no need for a warehouse or associated overheads, and no need to invest in packing or shipping orders. This freedom provides companies with immense flexibility regarding their location: with no need to store hundreds or thousands of items in stock, a dropshipping business can be run from almost anywhere. A wider range of products can also be offered – you face no limits due to space or expenses.
The Benefits of Dropshipping with Lane's
When you dropship with us, you know you're making a solid deal: we have years of experience supplying unique, high-quality auto-detailing products to professional & domestic customers. Our products are not sold in retail stores, so selling them through your site puts you in an exclusive circle of suppliers. You will also receive a generous commission and increase your bottom line, and enjoy more traffic to your site thanks to the increased, high-authority keywords you'll be able to use.
Depending on the size of your business, you may find our dropshipping scheme revolutionizes not just the way you operate, but also your entire approach to sales. Think about it: if you already offer a range of car-related products but want to expand, do you have the space & expenses available? Is growth currently unfeasible for you? Dropshipping can boost your revenue, expand your customer-base, and leave you free to remain in your current location (or even downsize, if needed): you will become one of the few sites authorized to offer Lane's Professional Car Products. Our current distributors include: Andy's Auto Sport; HPF; Only Car Stuff; KC Auto; stylintrucks; Car Cover Kingdom, and more.
Want to know more about our dropshipping program? Have questions or comments? Feel free to get in touch! Call toll-free on 1 – 866 – 798 – 9011 now.