Posted by Lane's Car Products on 9th Dec 2015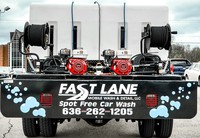 One of the hallmarks of Fast Lane's Mobile Detail and Car Wash is our unique ability to deliver absolutely spot-free washes with our exclusive reverse osmosis water. Major investment in the best water purifying system available means Fast Lane Mobile Detail can deliver a sparkling new looking car without ever risking the paint finish by scratches from towels or chamois.
Fast Lane's Mobile Detail serves several St. Louis County car dealerships with weekly spot-free washes, and we have the ability to bring the same level of excellence right to your door with our mobile services. Not only will you receive the same spot-free wash, but your vehicle will also be treated to the same Lane's Car Care Products used in our shop and sold through our website. We specialize in offering the best products not sold in retail stores.
Dry Foam Upholstery Cleaner, Power Clean interior cleaner, and Super Blue Tire Gloss, are just a few of the numerous products we offer to keep your car looking and smelling its absolute best. We have everything you need to duplicate our highly sought after results; in addition to our high quality car cleaning products, we also have any piece of professional auto detailing equipment you could possibly need. And it's all available to be delivered to your door at the click of a button. No one else can offer this level of quality and service, and we stake our 15-year reputation on it every day.
Don't be fooled by others with flashier packaging and advertising. When you have discovered Lane's Professional Car Care Products, you have found the very best.