Posted by lanes car products on 10th Aug 2015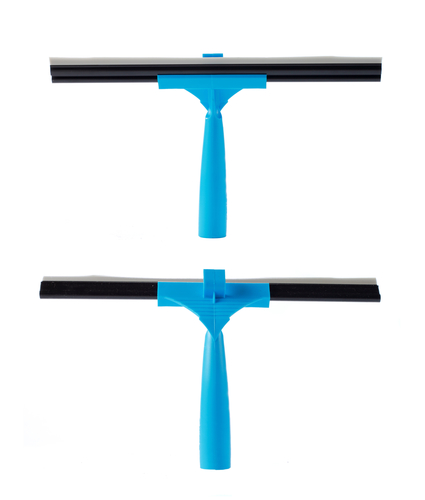 Water blades help to make cleaning your car faster and easier than ever – and we have a wide range to suit all vehicles and budgets. Our expert team is dedicated to producing the best auto-detailing equipment on the market, catering for car-lovers, auto-dealerships, and professional detailers, providing a lasting finish – and we're also here to offer in-depth advice!
Join us as we walk you through just a few of our water blades, offering insights into their benefits!
This is safe for all surfaces, with a patented T-bar edge that whisks water away quickly and easily. Thanks to the soft medical-grade silicone (which molds to the shape of all surfaces), you can rest assured the blade leaves no scratches on your paintwork, and offers 15-times less friction than commonly-used terry cloth towels. This One Pass Water Blade leaves your car with a stunning spot-free dry finish – but how do you use it?
For best results, wash your vehicle, and make sure the surface is still wet. Then, drag the silicone squeegee across the car's surface to dry it – each pass achieves a gorgeous streak-free finish. After using the water blade, use a microfiber towel to dry drips or areas you couldn't quite reach – and that's it! Job done.
This smaller blade offers the same benefits as the previous model, with a patented T-bar, soft scratch-free silicone, and a flexible blade for safe use. You may prefer this 12" design over a larger one for easier, more convenient use, and for smaller surfaces; this also helps to make reaching less-accessible areas a little easier.
To use this, follow the same instructions as above – it's easy.
For faster, easier cleaning, this water blade with a telescopic pole is ideal. No ladder needed for larger vehicles (trucks, RV's, SUV's, Campers) and this is faster & more effective than simply using a towel. This pole extends from 27 inches to 46 inches, making it easier than ever to reach more inaccessible areas without needing to use a stool or step-ladder, maximizing personal safety,
This is the same as the above blade, only bigger! The added inches make this easier for drying larger vehicles after washing, covering a larger area with less effort. As anyone with a love of auto-detailing knows, a thorough clean can be a time-consuming process, particularly for bigger vehicles: this tool helps you to get more done in less time – leading to a better finish!
This kit is great value for money, featuring an 18" Water Blade with a patented Y-bar edge, Professional Car Wash Soap, and a 16" x 24" Microfiber Towel. The towel is absorbent, lint-free, and non-abrasive for a scratch-free, professional finish. Using the car wash soap will effectively remove grime, dirt, and other contaminants from surfaces, leaving it with a stunning shine. Using the water blade will leave the vehicle dry with a minimum of effort, and the towel should be used to go over any drips or areas that are still wet.
Keeping your vehicle's paintwork clean and shiny helps to give it a dealership-free look, ideal for car-lovers, professional detailers, and showrooms alike. Whether you use it every single day, drive through muddy areas on a regular basis, or live in an area with harsh elements & terrain, filth can gather on your car faster than you may realize – use any of our water blades to keep it in the best condition. Have questions? Just get in touch!