Posted by lanes Car Products on 21st Oct 2015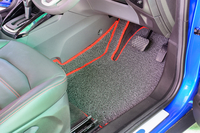 As a dedicated car-lover, you invest time and effort into making your vehicle look as good as new: whether this is because you use it for business, because you plan to sell it in the near future, or simply out of the sheer love of a gleaming, factory-fresh finish, keeping your car looking at its absolute best can be a real pleasure.
One key part of maintaining a clean, fresh, pleasant, interior is your flooring.
When a passenger climbs into your car, the first thing they're likely to notice is the odor: if there's a pleasant scent in the air – perhaps a classic pine-imbued one – then their journey will be much more enjoyable than if the entire car reeks of sweat and junk food.
Major contributory factors to bad smells can be filth, mud, grime, and food-droppings trodden into your carpet. Floor mats help to ensure the quality and lifespan of your pile, forming a comfortable barrier between your feet and the floor itself.
At Lane's Professional Car Care Products, we offer a wide range of floor mats and liners. These are ideal for protecting your car's carpet as well as adding a personal touch. Let's take a look at our range.
Inject a Little Personality to your Car with FanMats
When you climb into your car, SUV, or truck, you want to feel as if you're coming home – the more comfortable you are in your vehicle, the more likely you are to enjoy your drive. Our range of FanMats offers something for everyone: we stock officially-licensed designs covering various areas, such as the NFL, NBA, NHL, MLB, NCAA, and even military branches.
Displaying your favorite team's logo in your car is a great way to show off your personality, give your vehicle a unique custom flavor, and make it feel like an extension of your home.
Our NBA range, for example, includes all of today's classic teams, including:
Atlanta Hawks
Boston Celtics
Charlotte Hornets
Chicago Bulls
Dallas Mavericks
Golden State Warriors
Houston Rockets
Los Angeles Lakers
Milwaukee Bucks
New York Knicks
Orlando Magic
Utah Jazz
And many more!
Within each logo-design, there are many different options, with mats of various sizes and materials to suit your specific vehicle & capacity. All are carpet- or rubber-based, offering durable, easy-clean manufacture.
Pay Tribute to your College or Military-Branch
We also stock a great selection of collegiate designs. For example, in our Minnesota range, we offer mats and liners featuring the logos of: Minnesota State University – Mankato; Southwest Minnesota State University Mustangs; St. Cloud State University; and University of Minnesota Duluth. Whether you want your custom FanMat to pay tribute to your college or you want to buy one as a gift for a special person in your life, the massive variety ensures there really is an option for all.
As well as our high-quality car mats, we also stock ones which are perfect for use in the home. Our rugs, for example, look awesome in the hallway, in the bedroom, in the lounge, or maybe even in your man-cave: introduce a personal touch to your space, showcasing your team-allegiance or college with pride.
We also stock mats and liners based around car companies (such as Ford) and various branches of the military, including: US Navy; US Air Force; US Army; US Marines; US Coast Guard; US Military Academy; and US Naval Academy.
Want to try more custom items beyond mats? Well, try our rest covers, our license-plate frames, and our tiles.
At Lane's Professional Car Products, we're passionate about cars just like you, and all of our mats, liners, & accessories are produced to the highest standards for lasting performance.