Posted by Lanes Car Products on 13th Sep 2015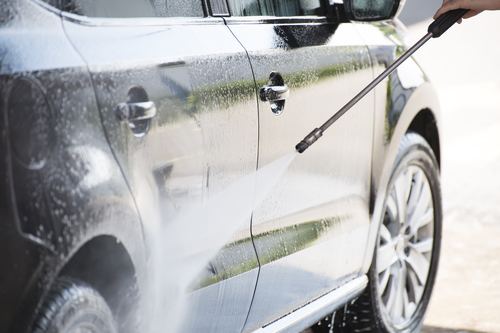 Using a pressure washer to clean your car provides a high-quality, professional finish – but how do you choose the right machine for your car? This can be a complicated purchase. At Lane's, we work hard to ensure we provide maximum quality at minimum cost – we keep all prices as competitive as we possibly can.
There are two different types of washers available: gas and electric. Does this make a huge amount of difference? Well, each type has its own specific benefits, and so may suit your needs more than the other. Regardless of the design, pressure washers all work in the same way: water enters the machine at a low pressure, until the engine powers a pump – this drives the water through a spray tip at a much higher pressure. This offers stronger cleaning power than a simple garden hose, and is more efficient & less time-consuming than washing by hand.
Let's look at the differences between gas and electric pressure washers, to help you find the best model for your needs.
These provide more power, and are more effective for cleaning larger vehicles covered with significant amounts of dirt or grime (people used to driving their cars in muddy conditions, such as out in the country in extreme weather, may find a gas washer suits their needs more than an electric model). Gas washers provide greater mobility too – as there's no need to remain close to a power outlet – which makes them ideal for larger vehicles.
While many models include a manual pull-start, others feature an electric starter. Finding the right fuel for gas washers is obviously essential, and if you forget to stock up, you'll be unable to use it as needed.
These are generally lighter and quieter than gas models, which makes them more suitable for use in residential areas. Some manufacturers recommend their washers remain plugged directly into an outlet during use, without an extension cord – if considering a model from one such manufacturer, it's important to think about the length the built-in cord offers: will you be able to reach your vehicle effectively?
Thanks to the electric motor's flip-switch activation, these washers are typically easier to use than gas alternatives, and provided your electricity is available, you need not worry about a lack of fuel. These may be better for car-lovers based in built-up areas where a noisy gas washer could cause annoyance, and for those with smaller vehicles carrying less dirt.
Tips for Using your Pressure Washer Safely
Regardless of the type of pressure washer you choose, using it as safely as possible is obviously key, particularly if you've never operated one before. To help you, we've provided a few expert tips:
Wear the eye protection recommended by the manufacturer, and ensure you have hearing protection available (whether this is ear plugs or mufflers)
Stand on a stable surface – ensure you have steady footing and good balance
Never leave the sprayer unattended when the washer is active
Be careful where your sprayer is aimed: never fix it on plants, animals, or people, and also avoid using stronger washers on wood
At Lane's, we offer a wide range of pressure washers, both gas and electric models. We hope this guide has helped you to find the ideal washer for your needs, but if you still have questions, please feel free to get in touch! Our expert team is happy to offer all the advice & information we can.