Posted by Lanes Car Products on 28th Mar 2015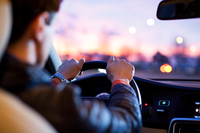 As a dedicated car-fanatic, you understand how important regular upkeep and detailing is to ensure your vehicle looks stunning at all times. With such a wide range of products available to help your car's exterior shine and gleam, it's important to pay as much attention to your interior, too: just because more people will see the outside is no reason to let its inside go to ruin!
We know how hard it can be keeping your interiors as clean and tidy as you'd like: you're busy all day, you're snacking as you drive from one place to another, you're slurping drinks … litter, crumbs, and stains can quickly accumulate if you're not careful. Whenever you offer a friend, relative, or colleague a ride, you want them to feel relaxed and comfortable in your car – and this can be hard to do when you're sitting on stale fries and breathing in the scent of rotten chips.
At Lane's, we offer a complete range of specially-formulated products for cleaning your interiors. Join us as we take a look at one of our best kits, and explore the benefits it provides.
This is it: if you want to treat your car's interior to a thorough clean and freshen-up, our Ultimate Interior Package is the ideal kit. Featuring four of our top cleaning items, this offers you a diverse selection, including:
Want to make your windows look better than ever? Hate those infuriating streaks other cleaning products leave behind? Well, this is the one for you. We've formulated it to create a streak-free, just-new finish: this can work wonders with oily films, water spots and even cigarette smoke.
Of course, this can also be used on any windows – not just those in your car. Why not treat those in your home to a shiny new finish?
Our Interior Shine does just as it promises to! Give your interiors a makeover with this great item – just apply to leather, vinyl, and trim for a stunning finish (complete with a satisfying scent). Professional auto detailers and dealerships use this to make sure all customers' cars look and feel at their best.
This also features a UV-protectant to prevent sunlight-discoloration and cracking – which can age a car's interior before its years. This is easy to apply: wipe on with a clean cloth, allow it to dry, and then just wipe off any excess fluid. After just a few minutes, you'll have an impressive new finish!
Your interior's carpets and upholstery deserve the best treatment. Our Dry Foam is simple to use, leaving striking results designed to make all cars feel new. This features an irresistible scent, to make it appear dealership-fresh.
Unlike some foams, this requires no water to activate its cleaning agents, and starts to work immediately upon application.
While some of our aforementioned products feature delicious scents, this is a great finisher to any thorough clean. This eliminates offensive odors, ensuring anyone riding in your car will feel comfortable for the duration – and you'll have no need to feel embarrassed about that stench of junk food you detected beforehand!
This takes just a couple of seconds to use, and – as it's water-based – leaves no stains on fabrics or carpets. This is used by countless professionals in the detailing, selling, and leisure industries, all of whom understand the importance of a fresh scent for leaving a lasting, positive impression.
At Lane's, we put our passion and commitment to quality into every single product. We want to help you get the most out of your car, so if you have any questions, please feel free to get in touch! You can reach us (toll-free) on 1-866-798-9011.