Posted by Lanes Car products on 28th Mar 2015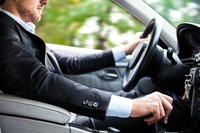 Detailing your car thoroughly and often is vital to keep it looking as good as new. Whether you prefer to do this with a friend or alone, in your garage or on the street, you should be using the best products you can get your hands on for maximum quality. At Lane's Professional CarProducts, our range of auto detailing goods are specially formulated to provide a professional, lasting finish.
Sometimes, as much as you try to clean as often as you can, you may pick up a few patches of dirt or grime that can't wait for a thorough clean – sometimes, you need a quick fix! Let's take a look at one of our kits, offering a great selection of products for a lasting dealership-freshness.
As the name suggests, this kit is ideal for creating a professional finish when time's against you. This is designed to help you keep a freshly-detailed look between cleanings – when you want to impress and remove grime before heading out in your beloved vehicle, just use this kit for instant results!
One massively important part of detailing is cleaning your windows: keeping them clean and clear is obviously key for safe driving, as well as boosting your overall aesthetics. Some products leave streaks or marks on your glass, but not ours: our glass-cleaners offer a streak-free, stunning shine sure to draw attention for all the right reasons.
This kit includes Xpress All-N-1, Glass Cleaner Towels, Triple Shield cloths, and Variety Pack of Breezies. Each of these products is essential, but the one you really can't drive without once you've tried it is the Glass Cleaner Towels: these are the fastest, easiest way to get your windows looking their very best – moistened with a strong ammonia-free formula, these effectively remove dirt, oil, dust, fingerprints, and grease! Wherever you are, whatever the condition of your glass, just take these from your glove compartment or boot, and wipe your windows down for a fresh, clear view.
What about the other products?
Well, our Xpress All-N-1 towels are perfect for removing stains, spills, and spots from your carpet and upholstery. You receive 30 pre-moistened towels, which clean in just a few wipes without leaving residue behind (which can usually just attract more dirt and crumbs, making it worse!), with a deodorizing effect.
Next up, our Xpress Triple Shield cloths are a one-step product perfect for cleaning and protect your vinyl, rubber, plastic, and leather surfaces. Featuring one of our standard high-quality cleaner/protectant mix, on a non-scratch, fully-absorbent cloth, this will create a gloss finish on all of your surfaces, for a like-new effect. These can be stored discreetly in your car, for a quick, no-fuss clean while on the road – perfect for any spillages or muddy sneakers!
Lastly, this kit includes our Xpress Breezies Variety Pack: these are outstanding, long-lasting deodorizers stored in a unique mesh bag – air flows through these, creating a clean & fresh fragrance throughout your car. You receive one of the four different scents in the kit, and these are perfect for eliminating any unpleasant odors – ideal for long drives in warm weather, when those sweaty bodies can become pretty ripe!
As with all of our kits, this is great value for money, and affordable enough for all budgets. As a dedicated car-lover, you want to make sure your car looks, feels, and smells its best, whether you spend hours at the wheel or just like to take her out for a spin to unwind on your evenings. We can offer any advice and information you need, so just give us a call on 1-866-798-9011!