Posted by Lanes car Products on 28th Mar 2015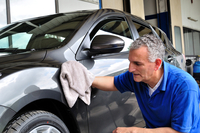 If you're looking for work, you know how difficult making the right impression can be. The internet is awash with information, tips, and guidance on how to behave when you step into that room – dress smart, offer a firm handshake, act interested (even when you're not). This is all vital, of course – first impressions count, and so your chances of securing a particular role may be scuppered if you fail to make an effort.
You may be a college graduate struggling to find that first step on your way to a dream-career; you may be a husband and father searching for work following a redundancy; you may simply be looking to jump from one sector into another. Regardless of your personal circumstances, employers are always looking closely at candidates, and – harsh as it sounds – mistakes you make in a first meeting could very well lead to you missing out.
How can Waxing your Car Help your Job Hunt?
One area that's easily (and often) overlooked is your car's condition. Now, while we understand a few employers may not care whether you roll up in a gleaming Merc or a beaten-up old van, others will see your car's presentation as an extension of your personality and traits: if you're content to drive around in a filthy vehicle (filled with litter and junk food), they might assume you're a slobbish individual with little concern for the way in which you're perceived – even if you've put on a nice shirt and tie, the car reveals your real personality. If you're vying for a role which requires you to be the face of the business, then your car's poor condition could instantly work against you.
On the other hand, if your car is clean, shining, and clearly well-cared for, your prospective employers are more likely to be impressed on this first meeting – if you step out of a pristine vehicle with an equally-neat outfit, even better.
Waxing Your Car – Added Benefits
Here at Lane's, we stock numerous types of car wax, all formulated to offer the very highest quality and performance. Our prices are kept lower than other sites, without sacrificing quality: each wax offers a professional finish which ensures dedicated detailers and dealerships use our products regularly, to keep their vehicles in top condition.
Aside from the obvious benefits mentioned above, what other advantages does waxing your car have?
Your car will take longer to become dirty: According to the weather conditions in your area, and the wax you use, the shine waxing creates should last for weeks – if you have a few interviews lined up together in a short space of time, waxing once should be enough to ensure you impress whenever you pull up at your potential new workplace.
Your car will be better protected against scratches: Your car receives wear and tear each day – regardless of the conditions you're driving in, this is unavoidable. However, if you wax often, this will help to eliminate visible signs of wear, and ensure your car always looks its best.
Different waxes offer different finishes: At Lane's, our range of waxes includes a variety of options, including Cherry Wet Wax, a high-gloss formulation designed to leave your car with a wet-look finish – your paintwork will be shinier than ever! We also have Carnauba Wax, a black wax designed for cars of dark colours, giving an incredible shine.
Buying your car wax online with Lane's is quick, easy, and guarantees you a professional finish. Want to know more? Call toll-free on 1-866-798-9011.