Posted by Lanes Car Products on 28th Mar 2015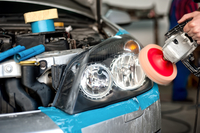 At Lane's, we have years of experience, and offer professional-grade auto detailing supplies to car-lovers, auto dealerships, and reputable detailers. With an extensive knowledge of what works and what doesn't, we work hard to ensure every item in our massive range is of the highest quality, sure to provide a lasting finish on all vehicles.
To help you find the right ones for your car (whatever her make, whatever her model), we've put together a list of ten of our top products, with brief descriptions for each. We hope these make your buying and detailing easier (and more rewarding!) than ever – once you're done reading, why not tell us what you think?
So, in no particular order:
This is one of our most popular products, offering a high-shine gloss and streak-free results. Used by professional detailers and auto dealerships every day, this is formulated to prevent cracking and color-fading, remaining effective for weeks in all weathers. Thanks to the trigger-sprayer included, this is easy to use, with fast results.
While it's often easy to overlook your headlights when detailing, you should give them the same level of attention you do for the rest of your car. Too many people leave their headlights to become filthy, causing visibility problems and potentially making driving at night more dangerous than it should be. This kit will restore your headlights to a safe, clean state in just 20 to 30 minutes (per pair).
This product removes dust and grime from your wheels, leaving them with a gorgeous shine you'll enjoy again and again. This requires no scrubbing (which can become frustrating!) and works instantly.
Our Car Wash Soap features a special formula, boasting a high concentrate of soap and wax, allowing you to clean your car quickly and effectively, with a stunning shine.
For a high-shine finish, this kit is ideal! Featuring our Car Wash Soap, Car Wash Dan Brush with Telescope Stick Handle & Water Chamber, 18" Water Blade with pole extension, and a Microfiber Towel. Easy to use, with lasting results!
Give your engine a thorough, professional clean! Featuring our Super Dyno Engine Cleaner, Automotive Parts Brush, and Engine Dressing – maintaining a clean, safe engine is essential, so give it the time and attention it deserves.
Want your car to have that just-waxed look after each wash? This is the kit for you! Combining three key car wash items, this will rejuvenate your vehicle with instant results. Featuring our Wash & Shine car wash soap, Microfiber Wash Mitt, and Water Sprite.
Get four top-quality waxes in one kit! Containing our Wash & Shine, Super Cut, Gold Edition, and Super Seal Paint Sealant, this should be an integral part of any car-lover or professional detailer's stock.
When your paint lacks the smoothness you crave, or you have overspray/contaminates on it, this kit is just what you need. Featuring our innovative rubber Magna Sponge, his will help you remove overspray, rail dust, water spots, and tree sap from your car in a quick, simple way, with lasting results.
Finally, this kit is a great accessory to take with you on the road, for a quick, effective detailing. Featuring our One Pass Water Blade to remove water, molding to almost any contour and drying every surface, as well as our 16"x16" Microfiber towel for a lint-free finish. Just make sure your car is wet before use, and you'll see lasting results!
As we mentioned earlier, why not let us know what you think of our selection? You can reach us on 1-866-798-9011, or use our Live Chat feature.