Posted by Lanes Car Products on 14th May 2015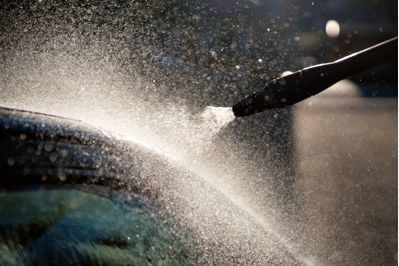 At Lane's, we offer a selection of high-quality pressure washers perfect for giving your beloved car or truck a deep, thorough clean. The beauty of a pressure washer is in its easy use, its speed, and its strength – provided you don't use too high a setting (which can strip or chip away at your paintwork), you can make your car look as good as new with the right washer. There are various types available, either powered by gas or electric motors, and can be fitted with numerous nozzles to affect the way in which the stream of water is directed (thin jets, fan patterns, and cone patterns, for example).
However, did you know you can use a pressure washer for more than just cleaning your car? Let's take a look at eight alternative uses for around the home.
1: Fencing
Keeping your fence clean and tidy can be difficult, right? Whether you have kids who like to play soccer on muddy days, or dogs who like to jump up against it with dirty paws (pets may also perform other functions against your fencing which leave nasty marks), or you spot grime collecting on the wood, using a pressure washer to blast your fencing is a great way to eliminate dirt in a quick, easy way.
2: Garage Doors
As garage doors are one of the most noticeable aspects of your home, you want them to stay as clean and tidy as possible (particularly as the entrance/exit for your beloved car). Facing all manner of weather conditions and bird-droppings, your garage doors may easily attract dirt and filth. Use a pressure washer to keep them fresh.
3: Driveway
With tires rolling along them multiple times a day, muddy heels crossing them, and possibly even your kids playing on them, driveways collect filth fast. Pressure washing them takes next to no time, and keeps them clean for your family and cars.
4: Decking and Patios
Picture the scene: you're in your backyard on a crisp day, enjoying the peace and quiet, maybe sipping a coffee or beer, reading the sports pages or a book … and you notice just how filthy your patio or decks have gotten. Not only is this unsightly, it can also be a hygiene risk if dirt is trodden back into the house (it's also less than ideal if you plan to eat outside, too). The solution? Power washer!
5: Lawnmowers of All Sizes
A lawnmower's very function means it's sure to get dirty over time, coated with grass and mud. While you should keep the blades clean, you also need to keep its exterior looking fresh. Use a power washer to blast filth and grass from its exterior, but be careful not to get too much water inside as you wash the underside too. No matter what its size, your lawnmower can stay looking as good as new with regular washes.
6: Trash Cans
Inevitably, your trash cans will attract grime, dirt, and filthy smells. While you don't need to worry too much about impressing people with the condition of your trash can, keeping yours clean will prevent those gross odors and ensure you can touch them without needing to wear gloves.
7: Outdoor Furniture
As with your patios and decks, you should keep your outdoor furniture clean to ensure good hygiene, and to prevent your clothes becoming dirty. Take care when using a power washer to clean your furniture – avoid blasting wood or painted surfaces for too long, to prevent chipping.
8: Dog Kennels
If you don't expect to live in dirty conditions, why should your beloved pooch? Whether your dog enjoys a snooze in their kennel on lazy afternoons, or they like to duck inside when it rains, keep their kennel a nice, fresh environment by washing it down once in a while. This should take only a few minutes.
Want to know more about pressure washers? Feel free to get in touch with us on 1 – 866 – 798 – 9011.