Posted by lanes car products on 10th Aug 2015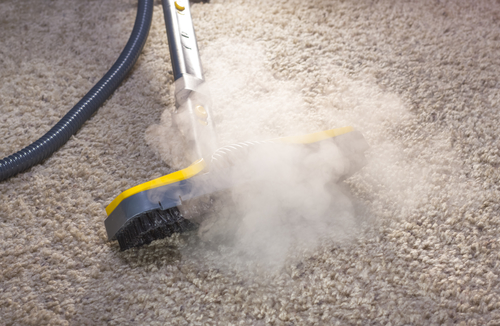 To keep the carpets inside your home clean, fresh, and hygienic, vacuuming on a regular basis is vital. While not all of us might enjoy it, running the cleaner around now and then helps to make your carpets look at their best – the rewards usually far outweigh the effort the task demands.
Well, vacuuming your car's interior carpets is just as rewarding, and, thankfully, typically takes much less time. Our cars are an extension of our homes, and we car-enthusiasts take real pride & joy in keeping them in top condition, both inside and out. Whether you use your car for everyday errands, drive for a living, collect vehicles, or run a showroom, vacuuming cars is a key part of the detailing process – but what else can you do for lasting results?
At Lane's Professional Car Products, we stock a range of carpet steamers perfect for reinvigorating your vehicle's interior. Whether you're used to using a steamer inside your home or you've never even heard of one, steaming car interiors is powerful and effective.
We stock carpet steamers manufactured by Mytee Products, Inc. – one of the leading specialists in the world, renowned around the world. This brand has always been recognized for their innovative designs and cost-effective prices.
Here's five things you need to know when buying a carpet steamer for your car.
# 1: Steamers Promote Better Hygiene
Steam is incredibly hot, and eliminates a great deal of bacteria lurking in your carpets – this can help to reduce the risk of allergens, enhancing your comfort and that of passengers with allergies.
# 2: Steam Cleaners Eliminates Odors
The smell of your car interior can have a positive or negative effect on your driving experience: the smell of smoke, mildew, mold, wet dogs & clothing, food, and drinks can create unpleasant scents. If you only need to drive a short distance, a bad odor is less of a problem – but if you're stuck behind your wheel for hours, in traffic or on long routes, stinks can make you uncomfortable, frustrated … and even nauseous.
Steaming your carpets eliminates odors, and cultivates a cleaner, fresher, more pleasant environment.
# 3: Steaming Cleans All Areas
When detailing your interior, trying to reach every area can be annoying, particularly if you struggle to stay crouched for long periods or aren't as agile as you used to be! Trying to get under and around seats, as well as in cup holders, under armrests, and more can also take more time & effort than you're able to invest.
Steaming performs a deep clean on fabrics, and reaches areas (dashboards, vents, ashtrays etc.) within just minutes. Steam also eliminates air-borne bacteria, ensuring a more effective detailing treatment.
# 4: Reduced Drying Times
Generally, using a steam cleaner to reinvigorate your carpets leads to faster drying-times typically associated with other means, such as using cleaning washes / shampoos. This means you get back into the driving seat sooner, and poses less of an interruption to your routine: detailing your car can be a time-consuming process, and steaming may help to reduce this.
# 5: A Wide Variety of Sizes and Designs Available
While some steam cleaners are larger and heavier, smaller units are available. Depending on your age, physical condition, and vehicle, carrying & operating certain steamers may be problematic, or out of the question altogether. The wide range available ensures you'll find the ideal model for your personal needs: you should also consider the length of the cables, the weight, and other features that may make a cleaner easier or harder to use.
Our selection of carpet steamers offers models at various prices, and our expert team is happy to answer any questions you may have!