Posted by Lanes Car Products on 21st Oct 2015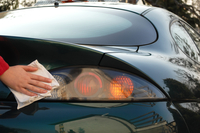 Whether you detail cars professionally or for fun, using the right tools can save time, boost the value ahead of sale, and leave vehicles looking as good as new. At Lane's Professional Car Care Products, we stock a wide range of auto-detailing kits that can make a huge difference to the way your car or truck looks and feels: performing a thorough clean of the interior & exterior with professional-grade, high-quality products will leave your vehicle showroom-fresh.
So, how do you choose from our massive selection of products? Well, finding the right ones for the task at hand is quick and easy thanks to the layout of our site, but to give you an idea of the benefits some of our kits provide, we've taken three to explore in greater detail.
This is a fantastic purchase if you want to detail your car to an exceptional standard. This kit includes a double pack of our MicroFiber Towels, which provide a quality clean and polish, with a streak-free, lint-free finish.
You'll also find our Professional MicroFiber Gloves, which clean your car's interior surfaces with super-absorbency; you can use these again and again, thanks to their high durability. There is also our Detail Brush, which is designed to clean and dust, leaving your car with dust-free vents for greater hygiene.
Our kit also includes our Waffle Weave Towel, which is highly absorbent, ideal for cleaning glass with care. Our MicroFiber Suede Towel eliminates streaks on chrome, while our 20x40 Jumbo MicroFiber Towel works brilliantly on exterior paintwork. Rounding off this kit is our MicroFiber Wash Mitt, which provides a lasting professional finish without leaving scratches or swirl marks.
A good driver should never neglect the condition of their headlights. Our Headlight Lens Restoration Cleaner & Restorer Polish boosts your visibility at night (the more you can see out there in the dark, the safer you, and others, will be), allows your vehicle to pass its safety inspection (if needed), and will improve the overall appearance.
As you drive, environmental factors, harsh weather, and minor collisions can damage your headlights, affecting their performance. Cleaning and polishing your headlights is much, much cheaper & easier than repairing them altogether – you can achieve a professional finish on a smaller budget. This kit is a three-step process of treatment, can be used without removing headlights, and takes between 20 & 30 minutes from start to finish.
This kit offers everything you need to accomplish a stunning finish. The buffer itself provides a smooth orbital movement (working at 4000 RPM) for a swirl-free gleam – thanks to its double insulation, the buffer protects the car's surface from its internal motor components; with a comfortable grip and a synthetic-tufted polishing & terry cloth application bonnet, this is UL-listed – all in all, a powerful addition to your auto-detailing tools.
As well as the buffer, this kit includes our Ultimate Glaze which cleans and polishes paint, leaving your car so impressive to look upon it could have come direct from a showroom. Our Cherry Wet Wax is the perfect choice for dark colored vehicles, leaving a glossy finish – so shiny people may even believe the surface is still wet!
Our Super Seal Paint Sealant provides lasting protection (keeping your paintwork safer in harsher weather conditions and in extreme environments) and a gorgeous shine. Finally, the kit includes our High Shine Detail Spray Wax – give your car an instant shine between wax-based treatments.
As you can see, this kit is designed to give car-lovers and professional detailers a range of goods that are easy to use, provide lasting protection & shine, and is available at a competitive price.
Want to know more about any of the kits we've explored? Have questions or comments? Don't be a stranger – we love to hear from you!