Posted by Lanes Car Products on 10th Aug 2015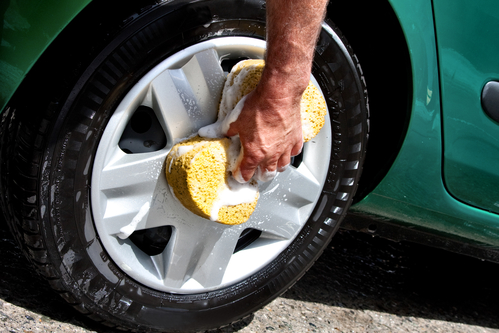 Detailing your wheels and tires on a regular basis is more than a simple aesthetics issue – it's preventative maintenance to ensure your car remains in top condition. Allowing brake dust to accumulate on your wheels for long stretches of time increases the chances of it eating through the coating, and affecting the metal itself. As brake dust is made of an adhesive and carbon fibers – originating from the brake pad and metal shavings off of the rotor – the wheels' heat & friction makes it a very corrosive blend.
Driving every day generates more brake dust than only on irregular occasions, but whether you get behind the wheel multiple times a day to run errands or you enjoy a leisurely drive once a week, taking care of your wheels and tires is essential.
At Lane's Professional Car Products, we stock a wide range of auto-detailing products designed to keep your vehicle in the best condition. Our Tire & Wheel Paint Prep Kit is a bargain-priced collection of detailing-items offering a lasting, professional clean – but what do you get for your money? Read on!
Kitting yourself Out
In our Car Wash Tire & Wheel Paint Prep Kit, you get:
Gold Edition wax
Touch-Up Shine
Bug Away
Wash & Shine
Black & White Tire Cleaner
Safe Wheel Cleaner
Super Blue Tire Gloss
Water Sprite
Scrubber Wash Pad
Magna Sponge
Bucket
Let's take a closer look …
Gold Edition is our best car wax, widely-used by professional auto dealerships and auto detailers: designed for the dedicated car-enthusiast, this provides a superior finish, and is easy to apply & remove. This can be used safely on all colors, and is clear-coat safe – our experts have formulated this to be the best wax on the detailing market, and ensures your car will look as good as new.
Black & White Tire Cleaner is a heavy-duty bleach cleaner designed to eliminate grime & dirt accumulating on your tires. This is safe and effective for use on standard tires, whitewall tires, and white lettering, and for maximum results, we recommend you use this before following up with our Super Blue Tire Shine.
Super Blue Tire Shine is a solvent-based product, offering a high-gloss, fast-drying, long-lasting finish for your tires. This is easy to use, and outlasts any other tire shine available on the professional market: it repels water and adds an extra protection to tires, helping them to withstand the elements and keeps them safer while on the road.
Our Water Sprite absorbs dirt & grime away from surfaces, dries without streaks, and causes no scratches. This is our most popular chamois, and is ideal for car-enthusiasts as well as auto dealerships looking to spray & dry all their vehicles with a minimum of fuss: as this absorbs water in seconds, it's quick and easy to use, and is machine-washable for maximum convenience.
The Magna Sponge is an innovative rubber polymer product, designed to replace clay bars – this removes water spots, tree sap, rail dust, and other contaminants from your car, and is ideal for use on wheels & tires. This can be cleaned quickly and easily – just rinse the contaminants away with water (this makes it easier to clean if you accidentally drop it on a dirty floor). The Magna Sponge can be used up to 30 times, and its easy-grip design allows for carefully-controlled handling (unlike clay bars, which need constant reshaping).
These are just a few items from our Tire & Wheel Paint Prep Kit, but as you can see, they offer a high-quality, professional performance to leave your car or truck looking dealership-fresh. We're dedicated to providing only the best auto-detailing products for car-lovers with all makes and models. The products included in this kit are also available separately, but the price of this kit offers great savings and added value for money – whether you're a professional detailer, own a dealership, or just want to treat your beloved car to a lasting clean!